From small and portable, to fully-integrated and installed systems, JAVS will help you design a system that fits your needs and meets your budget requirements.
Many state and local courts are already using digital courtroom av technology solutions to make their courts more efficient. It's cost-effective and requires limited interaction—allowing courtroom personnel to focus on other duties. JAVS has all the tools you'll need from start to finish to bring accurate, professional, and easy-to-use technology capabilities to your courtrooms. We provide the hardware, software, and unmatched customer service to make sure you're getting the most from your components. Contact us today for a free AV consultation and let us help you create your ideal courtroom.
Video: Judge William Knopf (Ret.) talks about the impact that JAVS solutions have made on courtrooms in the Commonwealth of Kentucky.

"JAVS software/products have added value to our court's management by helping us to keep an excellent record while saving money compared to traditional recordkeeping methods. JAVS service and support is a huge part of our satisfaction with them as a vendor."
Jeff A., Court Administrator – Washington
What We Offer
JAVS is committed to being a full-service provider of your AV needs. Contact us today to discuss how we can help you with: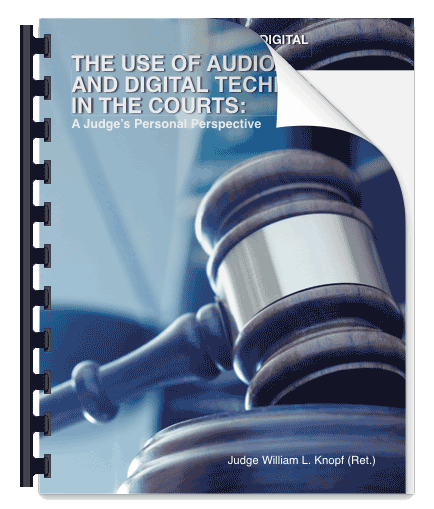 Courtroom AV: A Judge's Perspective
By: Judge William L. Knopf (Ret.)
The Commonwealth of Kentucky is best known in the United States and around the world for its tasty bourbon, fast racehorses, and Kentucky Fried Chicken—not for courtroom technology. But in the early 1980s, a general jurisdiction trial judge from rural Kentucky had an idea that revolutionized our court system.
Learn about the evolution of audio/video recording in Kentucky's, and how its impact not only made courtrooms more efficient, but is saving Kentucky taxpayers over $27 million dollars a year.
Rosemary Moore
Rosemary Moore, RSM, talks about the responsibility that we as a company feel when it comes to responding to the needs of courtrooms and government agencies.
Gabe Schmitz
Gabe Schmitz, RSM, elaborates on the advantages of partnering with JAVS for your AV integration and digital recording needs.  
Mark Naiditch
Mark Naiditch, Chief Hardware Engineer, on what it takes to develop new technology for the proprietary JAVS lineup of courtroom recording hardware.