A turnkey solution that provides courtrooms everything they need to capture a digital record.
The Premier Line offers an audio/video recording solution for courtrooms that includes all hardware and software necessary to create, manage, publish, and view a complete, permanent record.
Many state and local courts are already using digital recording as the official court record. It's cost effective and requires limited interaction—allowing courtroom personnel to focus on other duties. JAVS has all the tools you'll need from start to finish to bring accurate, professional and easy-to-use recording capabilities to your courtrooms. We provide the hardware, software, and unmatched customer service to make sure you're getting the most from your recording system.  Contact us today for a free AV consultation with our design experts and let us help you create your ideal courtroom.
Video: Shelly Knopf, retired Court Administrator for the Commonwealth of Kentucky, and JAVS current National Court Liason reflects on why a partership with JAVS is so valuable.
What We Offer
JAVS is committed to being a full-service provider of your AV needs. Some of our additional offerings include:
30+ Years Serving Courts
At JAVS, we believe that an accurate and accessible record helps create an open and transparent society. That's why for more than 30 years, we've provided scalable, court-specific digital recording solutions to courtrooms throughout the world. Our solutions enable courts to accurately capture, store, and publish the official verbatim record. From public address to remote arraignment, to open source access, JAVS promotes truth and accuracy by preserving the record for the future.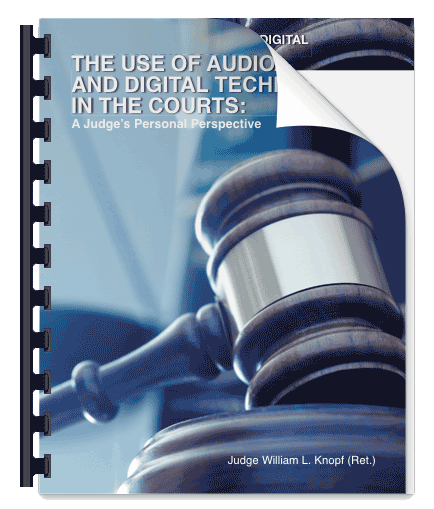 Courtroom AV: A Judge's Perspective
By: Judge William L. Knopf (Ret.)
The Commonwealth of Kentucky is best known in the United States and around the world for its tasty bourbon, fast racehorses, and Kentucky Fried Chicken—not for courtroom technology. But in the early 1980s, a general jurisdiction trial judge from rural Kentucky had an idea that revolutionized our court system.
Learn about the evolution of audio/video recording in Kentucky's, and how its impact not only made courtrooms more efficient, but is saving Kentucky taxpayers over $27 million dollars a year.
Centro | JAVS AV Processor
This processor is an centrally-controlled audio and video switching system that assigns each person an individual mic and camera, producing a natural, smooth looking audio/video production without the need for an operator!
Centro can be used to control public versus private address. With the touch of a button, Centro can mute all public audio and video outputs whenever a private conversation is taking place. When a private conversation is required, Centro can mask sound by outputting white or pink noise over up to eight independent audio outputs. In addition, our Centro processor is capable of providing one-way, two-way, and three-way conferencing.
FlexMic | JAVS High-Quality Boundary Microphone
A high-quality professional microphone, the JAVS FlexMic boasts customizable colored light indicators, a configurable feather-touch pushbutton, and programmable microphone patterns.
The FlexMic offers Microphone Proximity Awareness™. As microphones pickup audio, it is measured against other microphones picking up audio. The mixer is then able to determine the location of the speaker in relation to the microphones in the room, maintaining the same level of audio no matter where the speaker is in the room.
We provide a failsafe technology for capturing as much of the spoken word as possible, eliminating inaudible situations, with Last Microphone On™. This technology allows the system to pick up whispers, someone "off" mic, and more.
Certainly, the sound from an air conditioning unit, the hum of overheard lighting, and equipment fan noise all contribute to the sound in a room. Adaptive Noise Threshold will measure a sound to see if it's constant or not. As a result, a noisy air vent will be ignored.
FlexCam | JAV Centrally-Controlled Video Camera
This unobtrusive camera can be connected with a single connector, and all settings can be configured via a PC and stored for later retrieval.
In addition to showing who is speaking, video switching technology will show facial expressions and gestures. This provides the context for any audio that's been recorded, resulting in a full picture of the record. It provides the proper context for the audio. Another notable feature is Sharp Noise Rejection™. Sounds such as coughs, sneezes, and dropped books are ignored, eliminating false video switching.
Rosemary Moore
Rosemary Moore, RSM, talks about the responsibility that we as a company feel when it comes to responding to the needs of courtrooms and government agencies.
Gabe Schmitz
Gabe Schmitz, RSM, elaborates on the advantages of partnering with JAVS for your AV integration and digital recording needs.  
Mark Naiditch
Mark Naiditch, Chief Hardware Engineer, on what it takes to develop new technology for the proprietary JAVS lineup of courtroom recording hardware.